Local Products this week
Carlson Upcoming Order & Price Increase – Beginning November 1, Carlson prices will be increasing. If you would like to place an order before the price increase goes into effect, please place your orders in the Direct Order Book (or call it in) by Oct 13th.

Happy Cow Announcements – milk will be delivered after closing on Monday, so special orders will be available to members on Tuesday 9/20. *Reminder: due to low milk production, buttermilk and chocolate milk will not be available for the next 4-6 weeks. As soon as they are available again we will restock them.

Co-op Garden produce: the growing season is winding down and we're currently picking Jalapenos from our co-op organic garden! Purchase them for a small donation to the garden fund.

Healthy Hen Farm: we received eggs last week.

Darkspore Mushrooms: we expect a delivery on Thursday

2022 Membership Renewals
Memberships are due the first time you shop at the Co-op in 2022. The cost is $30 for the entire year, which is still a great deal. Thank you for your continued support!

Weekly Recipe: Vegan Almond Butter Pumfu Stir-Fry at the bottom of this email

Product Updates New & Restocked Products(Photos Below)

Monthly Senior Discount Day The Co-Op offers a 5% discount to seniors 65+ on the 3rd Saturday of each month. The next senior discount day will be held on Saturday, October 15.

Updated COVID-19 Reminders – Masks are now optional for shoppers – We are still following recommended safety protocolsThe Pickens County community level has increased to HIGH, with the rate of transmission increasing. Based on the current CDC and SC DHEC guidelines, masks are recommended for shoppers. Day managers will decide whethervolunteer workers will wear masks on their shifts. We are still following all of the recommended CDC guidelines and SC DHEC guidelines for keeping people safe during the COVID-19 pandemic, so we will reinstate the mask policy if the transmission rate increases again.
We ask you to do the following:If you are feeling sick at all (fever or not), Please do not come into the store.If you know you have been exposed to COVID-19, DO NOT come into the store. The CDC guidelines call for staying home for at least 5 days after you've been exposed to someone with confirmed COVID-19. See this link for more information on what to do if you contract COVID: What to Do If You Are Sick | CDC

Previous Posts
Visit these links for more information:
Darkspore Mushroom Grow Kits available to order
Volunteer Jobs
Co-op Garden Project Updates

Order Due Dates and Delivery Dates
Online ordering calendar
UNFI — The next order due date is Monday, Sept 19. Thenext delivery date is Wednesday, Sept 28.

Happy Cow –Milk will be available on Tuesday, 9/20 from the delivery on Monday, Sep 19. Place orders by Saturday, Oct 1 for delivery on Monday, Oct 3.

Frontier Herbs — Orders due monthly on the 4th Tuesday of the month.
Recipes and Health Articles
Vegan Almond Butter Pumfu Stir-Fry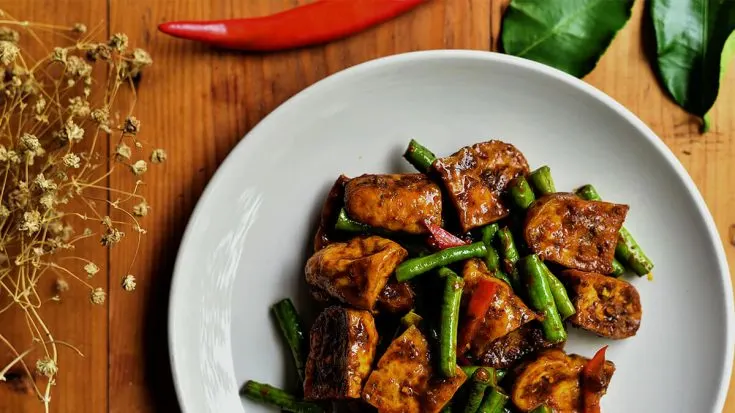 This healthy Almond Butter Pumfu Stir-Fry tastes so delicious that you can't believe it's so simple to make! It's also vegan, plant-based, gluten-free, and dairy-free.

PREP TIME: 10 minutes
COOK TIME: 35 minutes
TOTAL TIME: 45 minutes
YIELD: 4Ingredients2 Original Pumfu (8 oz)4 tbsp sesame oil (to divide into 2x 2 tbsp to be used separately)4 tbsp almond butter8 tbsp tamari lite4 tbsp lime juice6 tbsp maple syrup4 tsp garlic chili sauce2 lb green beans, chopped4 red chiliesInstructionsPreheat oven to 400°F (or 200°C) and bake Pumfu for 15 minutes till slightly crispy.While Pumfu is baking, add to a mixing bowl the following: almond butter, tamari lite, lime juice, maple syrup, chili sauce, and 2 tablespoons sesame oil (remaining will be used later). Whisk and combine well.Once Pumfu has finished baking, add to marinade sauce and marinade for 5-10 minutes. We want the Pumfu to absorb the sauce. Stir occasionally.Heat a skillet over medium heat and add Pumfu but reserve the marinade. Cook for around 5 minutes until browned. Remove from skillet to a plate.Add remaining 2 tablespoons of sesame oil to skillet and green beans. Cover for around 4 minutes till green beans are tender from the steaming. Remove cover and turn up the heat slightly. Add chilies and continue cooking for a couple of minutes. Remove from skillet and add to Pumfu.Serve with steamed rice and enjoy!NotesIf not going for a gluten-free diet, you can substitute tamari with regular soy sauce.

Nutrition Information:
YIELD: 4 SERVING SIZE: 1
Amount Per Serving:
CALORIES: 417 | TOTAL FAT: 23g | SATURATED FAT: 3g
TRANS FAT: 0g | UNSATURATED FAT: 19g CHOLESTEROL: 0mg | SODIUM: 1126mg | CARBOHYDRATES: 49g | FIBER: 10g | SUGAR: 30g | PROTEIN: 11gFind it online: https://www.gloriousrecipes.com/pumfu-recipes/