Announcements:
COVID-19 Reminders – We are still following safety protocols.
As you know, the cases of COVID-19 have been increasing in our area. We hope that you are and your families are staying safe and healthy. We will continue to provide you with healthy foods and products to the best of our ability in order to help us all support our nutrition and immune systems. 
Health and safety are all of our responsibilities. We encourage you to practice safety measures at home and when you're out. Take measures to avoid unnecessary contact with large crowds and confined gatherings of people to help slow the spread of COVID-19.
What we ask you to do:
2020 Membership Renewals
Memberships are due the first time you shop at the Co-op in 2020. The cost has increased to $30 for the entire year, which is still a great deal. This is the first increase in 30 years, and is needed to increase our income. Thank you for your continued support!
See the recipe for Sunshine Bowl with Sunflower Seed Tahini sauce at the bottom of this email
New, Restocked & Highlighted Products
(See photos below)
Bulk Packaged, Refrig, & Frozen: Amy's pizza and bean & cheese burritos, Brazi Bites – Garlic Asiago cheese bread, Brown Cow yogurt, bulk black-eyed peas, long-grain brown rice, chickpeas, dried mangoes & nutritional yeast, assorted dark chocolate, Good Culture cottage cheese, GTS kombucha (cranberry, original), Hampton Acres pimento cheese, Happy Cow milk & cheeses, & unsalted butter, Health-Ade Bubbly Rose Kombucha, Late July saltine crackers, local eggs, Mikoyo's vegan sharp farmhouse cheese and cream cheese, NOW lecithin granules,  Pacific Foods mushroom and vegetable broth, Reeds ginger brew, Rickety Barn fudge (plain, walnut & Rocky Road), So Delicious frozen dipped double chocolate cashewmilk bars, Woodstock frozen broccoli and cut spinach
Gluten-Free: Good Health gluten-free pretzels, iViva frozen cauliflower grain-free tortillas, RXBars mint chocolate
Consignments: knitted items by Meg MacArthur – catnip mice are back in stock!
Personal Care: nfuse magnesium deodorant, Alba Organics sunscreen, Clearly Natural unscented liquid hand soap
Pet Products: UT support & Hairball treats, Homeopet nose relief, Castor & Pollux beef bone broth, Wellness gravies
Supplements: Garlinase, Air-Power, Gaia Echinacea Supreme, Olive leaf, Oil of Oregano & CALM ASAP
Local Produce: from Cedar Knoll Farm delivered 7/18 – organically grown carrots & butternut squash, Growing Green Family Farms delivered 7/23 – organically grown arugula, cucumbers, green beans, mixed lettuce, green kale, red beets, & green bee, blush & beefsteak tomatoes. DarkSpore blue oyster, black poplar, lion's mane & shiitake mushrooms delivered 7/23, and Roundtop Farms red turmeric (in the freezer) (see photos below).
Monthly Senior Discount Day
The Co-Op offers a 5% discount to senior 65+ on the 3rd Saturday of each month.  The next senior discount day will be held on Saturday, August 15
Day Managers Needed
(Markup depends on day of week/hours worked)
We are looking for volunteers to be trained as Day Managers (hours depend on day of week). If you are interested or want to learn more please contact 
Theresa Pizzuto
.
Secretary Needed
(Officer position – 0% markup)
The Secretary takes minutes at the monthly manager meetings & quarterly general membership meetings, sends out the Weekly Update and all email communications to members & managers. Computer skills are required, including basic knowledge of Word and Excel; familiarity with Google Docs a plus. If you are interested or want to learn more please contact Theresa Pizzuto.
Assistant Manager Needed
(Officer position – 0% markup)
The Assistant Manager assists the General Manager and Associate Manager in management activities and decision-making, serves in the absence of the Assoc. Manager or General Manager as needed, attends Manager, General Membership and agenda-planning meetings and works to gain knowledge of all jobs, policies and procedures associated with the operation of the Co-op.  Good organizational, communication and computer skills are required, including basic knowledge of Word and Excel; familiarity with Google Docs, MailChimp and email lists is a plus. You will work closely with the the Associate & General Manager and we will provide training as needed. If you are interested or want to learn more please contact 
Theresa Pizzuto
Order Deadlines and Delivery Dates
UNFI —  The next delivery date is Wednesday, August 5. The next order deadline is Monday, August 10. 
Happy Cow — An order was delivered on Monday, July 20. The next order deadline is Saturday, August 1 for pickup on Monday, August 3.
Sami's Bread — Please place a special order if you would like us to order from this company again.
Frontier Herbs — Orders due monthly on the 4th Wednesday of the month
Albert's Produce— The next delivery will be made when we can meet the minimum.  To place an order or receive information about product/price lists please contact Theresa.
New, Restocked & Highlighted Products
Produce Updates
If you are interested in ordering a specific type of produce please contact Theresa to discuss availability. 
Short-term Local Seasonal Produce 
To special order please contact 
Theresa
New produce list: 
see top section of email
Growing Greens Family Farms: we plan to order greens and other seasonal produce from them every 1-2 weeks. For more information, visit Growing Green Family Farm.  They are a local farm in Anderson, SC.
Cedar Knoll Farm: we will order seasonal produce as our shelf stock is depleted (weekly or every other week).
DarkSpore Mushrooms: a variety of mushrooms including Blue Oyster, Chestnut, Comb's Tooth, Lion's Mane
Healthy Hen Farm: seasonal produce will be ordered as it is available
Jewell Farm: garlic and other produce will be ordered as it is available.
Mile Creek Farm:  they are closed for the season
Roundtop Farm: ginger and turmeric will be restocked as it is sold from the shelf
Warbranch Mushrooms: shiitakes
Albert's Organics Produce Distributor: Our most recent order arrived Wednesday July 17. Produce will be ordered when we can make the minimum.
Discontinued by UNFI
St. Dalfour Gourmet to Go 3 Bean Salad

St. Dalfour Gourmet to Go Salmon

Traina Natural California Bing Cherries

SunSpire Coconut Dark Chocolate Bar

Rapunzel Brand

Coco Powder

Veg Bouillon (no salt, w/ herbs, w/ sea salt)

Coconut Secret Organic Almond Coconut Bar

Nutiva brand Organic Red Palm Oil 15oz is discontinued from the Co-op shelf.

Full cases of six jars are still available by special order only.

Reed's Cherry Brew beverage

Canned Santa Barbara brand large black olives

Still Available by Special Order

Eden Organic Red Kidney Beans, 15oz cans

Eden Organic Cannellini White Kidney Beans, 15oz cans
Discounted Items
There are a variety of discounted items located on our Clearance shelf.
Recipes and Health Articles
Sunshine Bowl w/ Sunflower Seed Tahini Sauce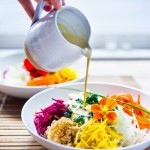 A low fat, vegan, healthy veggie and grain bowl with a flavorful sunflower seed tahini sauce.
Prep Time: 20 mins
Cook Time: 20 mins
Total Time: 40 minutes
Yield: 4 1x
Ingredients
4 cups hot cooked brown rice, quinoa or other whole grain
1 cup cubed extra-firm tofu
4 Cups fresh raw crunchy veggies, grated and/or sliced – grated beets, grated carrots, radish, daikon, kohlrabi, cucumber, jicama, peppers, tomatoes
2 cups packed leafy green–kale, spinach or arugula
2 T chives or scallions- chopped
2 T sunflower seeds
1 tsp Braggs Liquid Aminos ( or tamari or soy sauce)
Sunflower Seed Tahini Sauce:
¼ cup sunflower seeds – roasted or raw
¼ cup fresh orange juice ( half an orange)
 2 tablespoons nutritional yeast flakes
2 tablespoons Bragg's Liquid Amino's or  soy sauce
2 tablespoons apple cider vinegar
½ cup water
1–2 cloves garlic
1 tablespoon fresh ginger ( optional)
1 tsp toasted sesame oil
1 tsp bee pollen ( optional)
Instructions
Cook grain or rice according to directions. Drizzle 1 teaspoon Braggs liquid amino over cubed tofu in a bowl and set aside, letting it marinate.
Prep all veggies (peel- then grate or slice).
Make sunflower tahini sauce– place all ingredients in a blender and blend until smooth.
When grain is cooked, divide among 4 bowls. Top with chopped kale. Arrange veggies and tofu overtop.
Drizzle with tahini sauce. Garnish with chopped chives ( or scallions ) and sunflower seeds.
Notes: you can also pan sear tofu ( blot dry after marinating and coat in cornstarch, sear in oil until crispy)