Local Products this week
Co-op Garden produce: we're currently picking Jalapenos, zucchini, carrots, and okra from our co-op organic garden! Purchase them for a small donation to the garden fund.

Darkspore Mushrooms: we received Lion's Mane and Blue Oyster mushrooms on 8/18.

Healthy Hen Farm: we received organic cucumbers on 8/20.

2022 Membership Renewals
Memberships are due the first time you shop at the Co-op in 2022. The cost is $30 for the entire year, which is still a great deal. Thank you for your continued support!

Weekly Recipe: Pinto Bean Salsa Salad at the bottom of this email

Product Updates
New & Restocked (ProductsPhotos Below)

Monthly Senior Discount Day
The Co-Op offers a 5% discount to seniors 65+ on the 3rd Saturday of each month. The next senior discount day will be held on Saturday, September 17.

Updated COVID-19 Reminders – Masks are now optional for shoppers – We are still following recommended safety protocols
The Pickens County community level has gone to HIGH, with the rate of transmission increasing. Based on the current CDC and SC DHEC guidelines, masks are recommended for shoppers. Day managers will decide whethervolunteer workers will wear masks on their shifts. We are still following all of the recommended CDC guidelines and SC DHEC guidelines for keeping people safe during the COVID-19 pandemic, so we will reinstate the mask policy if the transmission rate increases again.
We ask you to do the following:If you are feeling sick at all (fever or not), Please do not come into the store.If you know you have been exposed to COVID-19, DO NOT come into the store. The CDC guidelines call for staying home for at least 5 days after you've been exposed to someone with confirmed COVID-19. See this link for more information on what to do if you contract COVID: What to Do If You Are Sick | CDC

Previous Posts
Visit these links for more information:
Darkspore Mushroom Grow Kits available to order
Volunteer Jobs
Co-op Garden Project Updates

Order Due Dates and Delivery Dates
Online ordering calendar
UNFI — Thenext delivery date is Wednesday, Aug 31. The next order due date is Monday, Sept 5.

Happy Cow –We received a delivery Monday, Aug 22. Place orders by Saturday, Sep 3 for delivery on Tuesday, Sep 6 (due to the holiday).

Frontier Herbs — Orders due monthly on the 4th Tuesday of the month.
Recipes and Health Articles – Pinto Bean Salsa Salad
Pinto Bean Salsa Salad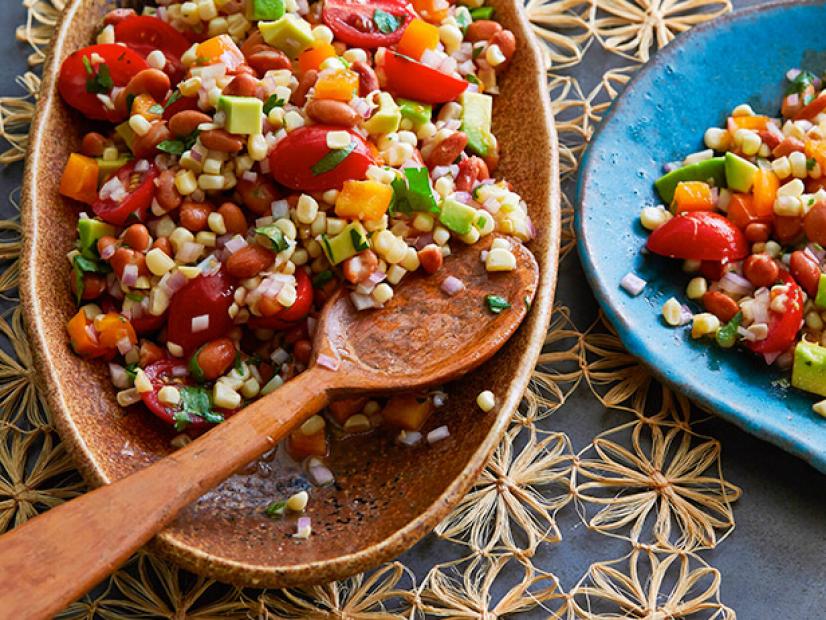 Level: Easy
Total: 20 min
Prep: 20 min
Yield: 6 servings
Nutrition Info
Ingredients
Dressing:
1 small clove garlic
1 1/2 limes, juiced (about 3 tablespoons)
2 teaspoons kosher salt
1/4 teaspoon chili powder
1/4 cup extra-virgin olive oil
Salad:
1 (15-ounce) can pinto beans, drained and rinsed
1 1/3 cups fresh corn kernels (from about 2 ears)
1 orange or yellow bell pepper, seeded and diced
1/2 small red onion, finely chopped (about 1/4 cup)
Kosher salt
Freshly ground black pepper
1 cup cherry tomatoes, halved
1 small Hass avocado, halved, seeded and diced
1/4 cup chopped fresh cilantro, leaves and stems
Directions
Make the dressing: Smash the garlic clove, sprinkle with a pinch of the salt, and, with the flat side of a large knife, mash and smear the mixture to a coarse paste. Whisk the garlic paste, lime juice, remaining salt and chili powder together in a bowl. Gradually whisk in the olive oil, starting with a few drops and then adding the rest in a steady stream.For the salad: Toss together the beans, corn, bell pepper, and onions. Add the dressing and toss to coat evenly. Gently fold in the tomatoes, avocado, and cilantro. Adjust seasoning with salt and pepper, to taste, and serve.
Copyright (c) 2004 Television Food Network, G.P., All Rights Reserved.
https://www.foodnetwork.com/recipes/food-network-kitchen/pinto-bean-salsa-salad-recipe-2008843